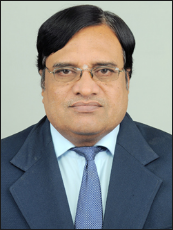 Dr. S.Chandralingam
Professor of Physics & Director
School of Continuing and Distance Education (SCDE), JNTUH
Received Ph.D. from the Department of Physics and M. Sc. Physics (Electronics as specialization) from the Kakatiya University, Warangal. Joined in the JNT University Hyderabad as Assistant Professor in the year 1985 and has been promoted as Associate Professor and Professor in the years 1996 and 2004 respectively
He is involved in the development of laboratories in Physics Department.
Served as Head & Chairman, BOS, Physics, JNTU College of Engineering from 2005 to 2008 and 2009 to 2010, JNTUH CEH.
Additional Controller of Examinations (JNTU) from 1990 to 1994 and Coordinator, SCDE from 2001 to 2005 and 2008 to 2009, JNTU Hyderabad.
Principal, JNTUH College of Engineering Manthani, Karimnagar District from June 2010 to Dec 2012.
Vice-Principal, JNTUH CEH from Oct 2014 to May 2015.
Served as Chairman, BOS, Physics from 2009 to 2011 and presently also serving as Chairman, BOS, Physics from 2013 to till date JNTUH.
He is also an expert member of Selection committees for JNTUH and its affiliated colleges.
Guided 05 Ph. D's and 04 scholars were submitted.
Currently guiding another 09 Ph. D research scholars.
He is a Fellow of ISTE and ISRP.
Presently, Director, School of Continuing and Distance Education (SCDE), JNTUH from May, 2015 to till date.