NSS Co-ordinator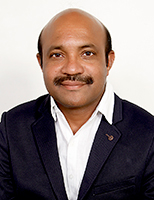 Dr. G. Narsimha
Professor of CSE & NSS Co-ordinator
Dr.Gugulothu Narsimha presently working as a Professor of CSE , NSS Co-ordinator, JNTUH, Kukatpally, Hyderabad.
He had completed his Bachelor of Engineering in Electronics and Communication Engineering, from University College of Engineering, Osmania University Hyderabad, Telangana in 1996.
He had completed his Master of Engineering in Computer Science and Engineering, from University College of Engineering, Osmania University Hyderabad, Telangana in 1999.
He was awarded with Doctoral Degree from Osmania University in the year 2009.
He awarded 10 Ph.D. Degrees to various scholars and 10 Scholars are currently working on board at various stages.
He has a total 18 years of experience in teaching profession in various organizations and successfully handled many administrative positions, Additional Controller of Examinations, Result Processing Co-ordinator of Examinations, JNTUH, Head of CSE Department, Training & Placement Officer at JNTUH CES. As a head of CSE, JNTUH CES ,he was responsible for designing and implementing Campus wide network with Jio fibre optic backbone connecting all the Departments, Hostels, and Campus
His Research interests are Computer Networks, Data Mining, Network Security, Machine learning, Artificial Intelligence and Cloud Computing.
He has published more than 125 publications out of which 49 publications are indexed in SCOPUS and 30 publications are indexed in SCI/Web of Science.
He is the editorial member for the various reputed SCI and SCOPUS indexed International Journals.
His research publications were awarded as best Paers at various international conferences at Istanbul, Turkey and Agadir, Morocco, which were organized by the editorial members of ACM and IEEE. He was session chair and key note speaker in more than 20 national and international conferences.
He has published 4 Text books. He won Visista Seva Puraskar award at JNTUH College Engineering and Siksha Ratana Puraskar award in the year 2011. He was awarded Vidya Ratna Award at PottiSriramulu Telugu University in the month of July 2018.He also received Best Citizen of India award in the year 2011, at New Delhi.
Dr G. Narsimha
Professor & NSS Co-ordinator
Computer Science and Engineering
JNTUH College of Engineering, Sultanpur
Official Email: narsimha06@gmail.com