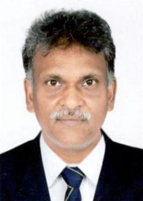 Dr. K.M.Lakshmana Rao
Professor & Head (Civil Engg)
Experience:
Teaching Experience:Teaching  over 30 Years at graduation, Post graduation and  Doctorate level " More than 27 years teaching at M.Tech level. Joined in JNTU service in 1990
Research:
Guided 4 Ph.D's and guiding 10 Ph.D scholars.
   Coordinator   for Centre of Excellence on Disaster Management, TEQIP, MHRD Project.
Principal Investigator for Road Accidents
Principal Investigator for Urban floods and
Principal Investigator for flash floods of COE-TEQIP
Principal Investigator to UGC -Urban Disaster Management - Mini Research Project.- UGC Research Project
Principal Investigator to AICTE-Online Monitoring of Rail Infrastructure through unmanned communication- AICTE TYPE-C – Research Project
Principal Investigator for AICTE Transit Path Calculation By GIS – AICTE Project
Principal Investigator for UGC Innovation Research Project , Initiated new Inter Disciplinary M./Tech Program in Urban Transportation  Engineering
Established Central Hall for 15 GIS Architectures – Differential GIS Architectures – conceptualized, designed, developed and established
Research Interests:
Principal research interests are interdisciplinary and lie in urban, rural and regional planning with the application of advanced technologies in electronics, communication systems, and spatial technologies to the field of transportation engineering. Also has strong interests in transport network analysis, transport planning and systems modelling, satellite technologies, Intelligent Transport Systems (ITS), infrastructure and safety management , road surface technologies, land use planning, bridge condition assessment through sensor technologies, unmanned communication and control systems for rail/road transportation and environmental impacts of road traffic
Knowledge Transfer Research:-
More than 60 B.Tech Students are exposed to new technology.
More than 500  M.Tech students are guided with research on Field problems.
Research Papers:120 Research paper at various levels
Research Product:
e-Measurement work
Fractal Model Kit for Urban development
Accidents analytics
Urban flood sensing system
Led wall based accident risk display systems
Driver attitude tracking system
Inter disciplinary Research:
Flood Monitoring and analysis
Accident Investigation with  sensors
Power sector mapping with GIS
LED wall and sensor alert system
National level sponsored Research:
PMGSY and GIS based Road Network Planning to Khammam, Mahaboobnagar and Kurnool.
Ten Municipalities- Integrated transport planning-Cyberabad.
Safety Consultant to UP Express way.
Safety Consultant for National Highways.
Seed Money of Research oriented
Adilabad Municipality
Hyderabadtraffic police
Traffic Impact assessment
International Visits on behalf of Government
Visited Netherlands for ITMS on behalf of Hyderabad Police
Visited Shengen, Honkong for ITMS on behalf of Hyderabad Police
Training Programme
Organized  33 training programmes  to PanchayatRaj  Engineering and Department  and printed  - Two proceedings books.
Organized training to  220 newly recruited Engineers .of GHMC on Road Engineering.
Consultants:
Quality control consultancy to GHMC Road from 1994 to till date
Traffic impact assessment for new interventions for Hyderabad from 2009 onwards to till date.
Road Safety consultant to NH' and SH' and PR Roads
Integrated Transportation planning for Ten Municipalities in Hyderabad with GIS
Integrarted Transportation and traffic planning for Secunderabad Cantonment Board
RoadSafety consultant for UP Expressway
Administrative Experience:
National Level:
Position held:Director Technical, National Rural roads development agency, Ministry of rural development, Government of India – involved in planning, interdisciplinary project evaluations, designs, implementations and administering total Bharat Nirman/ PMGSY at National level
State Level
Coordinator, State Technical Agency of Panchayat Raj Department for 2000 to till date.
University Level:
Head Coordinator-  Centre For Transportation Engineering JNTUHCEH from 1996 to 2010
Head of the Department of Civil Engineering, JNTUHCEH Kukatpally- 2013 to 2016
Director Bureau of Industrial Consultancy Services, JNTUH University - 2016 to till date
Chief Engineer-Engineering Department, JNTUH University-in charge for construction, maintenance and operation for JNTUH CEH, JNTUHCEJ,JNTUHCEM, JNTUHCEJ Campuses -2016 to till date
Coordinator for Centre of Excellence on Disaster Management World Bank Project of MOHRD, Government of India