| | |
| --- | --- |
| Director of Evaluation | Back |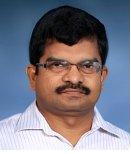 Dr. V. Kamakshi Prasad
Ph.D
Director of Evaluation
Received Ph.D. from the department of Computer Science & Engineering at IIT Madras. Received M.Tech. and B.Tech. from Andhra University College of Engineering and KL College of Engineering (Nagarjuna University) respectively. Joined in JNT Univerity Hyderabad as Assistant Professor in the year 1992 and has been promoted as Associate Professor and Professor in the years 2003 and 2006 respectively.
Served as Head of the Department Computer Science & Engineering JNTUH College of Engineering, Director Innovative Technologies, Controller of Examinations, Additional Controller of Examinations and Coordinator TEQIP-II at JNTUH College of Engineering Hyderabad.
Served as Chair CSE Board of Studies JNTU CEH. Presently serving as member of CSE Board of Studies at the JNTUH and as Chair CSE Board of Studies at Mahatma Gandhi University Nalgonda.
Guided 13 PhDs and 3 MS thesis works and currently guiding another eight PhD research scholars. The areas of research interest are Speech and Image Processing, Data Mining and Pattern Recognition.
Presently a Fellow of Institute of Engineers (FIE) and Member of CSI and ISTE.
Visited Czech Republic and USA.
Profile :

View Profile